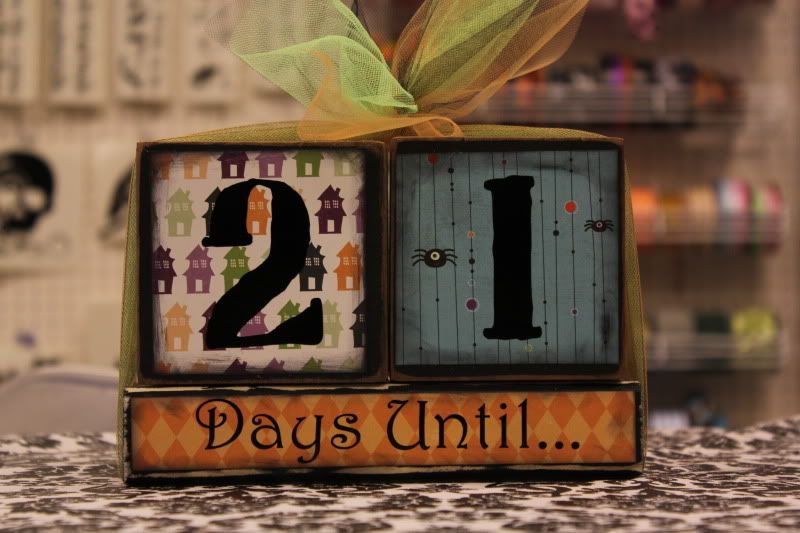 Sept 22nd @ 7 Countdown Calendar $25
Sept. 29th @ 7 Witches Boots $25
Oct. 1st. @ 11 Skeleton $15 Great for kids
Oct. 6th @ 7 Tabletop Turkey $50
must register by Sept. 29th
Oct. 8th @ 11 Halloween Blockheads $5 ea Great for kids!
Oct. 13th @ 7 Mr.&Mrs. Pilgrim Sample coming soon
Oct. 20th @ 7 Accordian Christmas Album $25
Please bring a paper cutter with scoring blade IF you have one and you will also need double sided tape
All classes must be paid for to register and hold your spot. This can be done with a C.C. over the phone. You must sign up for classes at least 1 week prior to the date. Kids 8 and older may come to the easier classes. Kids under 8 may attend with adult supervision. Treats are definitely welcomed =)
Who wants to get FREE STUFF???? You can do it by hosting your own in store Party. You are the hostess, you bring the guests and treats if you like and you will earn 10% of all sales over $100 in free products.
Would be great for Conference Weekend when the men are at their meeting. Or... deer hunting weekend or....ANYTIME. These party days are not limited to Thurs-Sat.
You can also do a Kids Birthday party too. Let each of the girls decorate the first Letter of their name for just $10 ea. We will have a variety of things for them to use to decorate with.
Call 801-731-8343 Thur-Sat to schedule any of these great activities!!!!